Calendar of Events
General event information
We facilitate
private
and
public
retreats.
Come and be inspired to allow the splendor of your destiny shine into the world!
Our public retreat offerings are typically limited to a group of 6 to 10.
You are invited to text or call (415-706-9320) for details.
Or call if interested in setting up a retreat for an individual, a couple or a small group on another day.
Private retreats
We offer customized 2-7 day intensive retreats in Mount Shasta, by request, for individuals, couples, families and groups (adult and youth).
'Life as Sacred Ceremony'
Expressing the Divine in daily life.
Being Aware of the Oneness
with All within and All without.
Release anxiety
Release suffering and fear
Release the sense of separation
Release the belief world
Release the barriers to the Soul
Release external distractions…
Connect with, feel and hear your Inner Presence
Express divine consciousness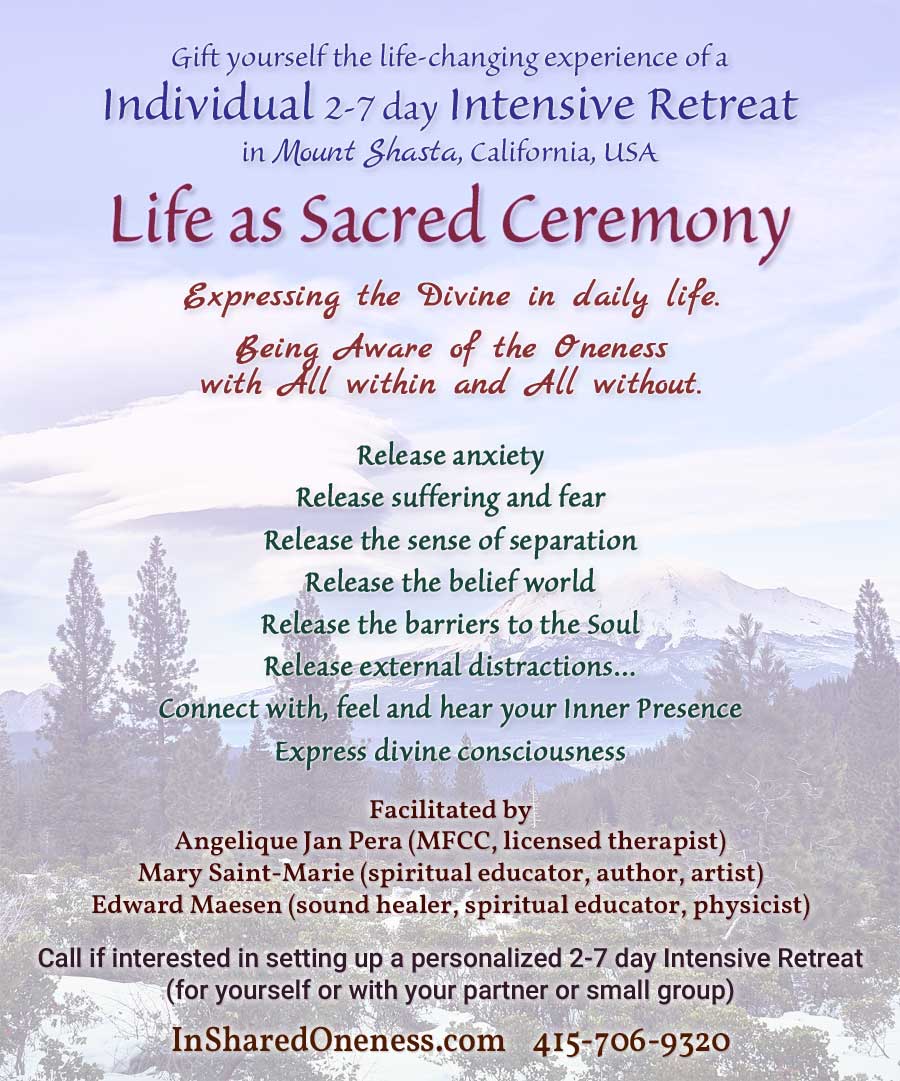 For more information,
please email: angeliquejan@gmail.com
or call Angelique at 415-706-9320
---
Calendar of public retreats
We currently don't have a public retreat scheduled.
You are welcome to request a customized
private retreat
!
---
Past public retreats
A selection of titles from past public retreats:
'Realization of the True Self, Realization of the Christ Self'
'Soul Remembering'
'Life as Sacred Ceremony'
'Animal Guardian'
'Living in Shared Oneness' (Awareness of Soul Oneness with all kingdoms, elements and places)
'Living Christ Consciousness' (Expressing the Divine in daily life)
'Walking Illumined in the World' (Bridging human and divine)
'Giving Love a Body' (Bringing the formless into form)
'Let Your Magic Out!' (A retreat for teens)
'Realize Your Celestial Self'
'Living from the Realm of Soul'
'Demonstrate Presence'
'The Mystical as the Practical'
'Realize YourSelf'
'Simplicity of Spirituality'
'Living Your Embodied Life'
'Living the Spontaneous Life'
---
Daily Global Meditation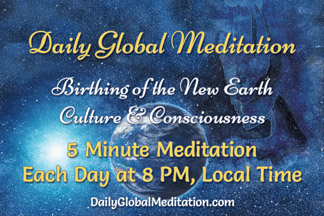 In Shared Oneness invites individuals around the globe to participate in a daily meditation.
The Daily Global Meditation is a call for peoples around the world to participate in a short daily meditation or prayer at 8 o'clock in the evening (8:00 PM or 20:00) local time.
If 8 PM is an inconvenient time, one may choose any other hour of the day and align with individuals for which that hour is their local 8 PM.
One doesn't need to be an experienced meditator to join. We suggest a focused attention daily for 5 minutes, to envision the Earth and Sky as Illumined and Whole.
Visit DailyGlobalMeditation.com for more information.
---
We'd love to have your Presence at one of our events!